Quikik math app for Grade 4 to 8 learners
Quikik is a new math learning app design for kids aged 10-14 that uses innovative AI technology to offer a personalised learning experience. The intuitive technology embedded in the app helps identify the gaps in a child's learning and knows the specific areas they need to catch up on. Quikik focuses on conceptual clarity: it breaks down math concepts into subskills. The app also provides the right level of competition and games, making learning math a fun and engaging experience for young learners in a way that sticks and reinforces math skills.  
Mickey Revenaugh, Director of New Products & Solutions at Pearson, said: "We know that mathematical concepts can be challenging for children across the globe under the best of circumstances, which is why we created the Quikik app as a fun, fast way to master math anytime and anywhere. Quikik is here to help sustain math learning even if school is interrupted, and to keep children productively engaged at home."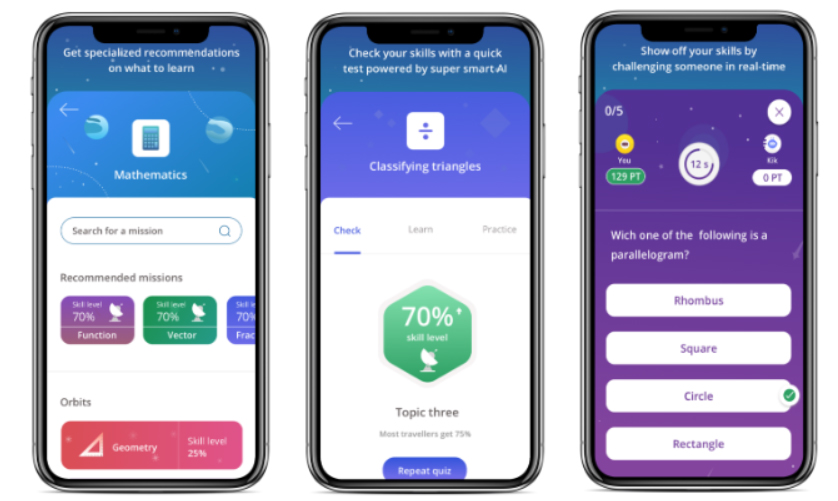 How does Quikik work?
When learners download the app, they will take a speed diagnostic test that identifies which subskills they need to focus on. Quikik will then deliver relevant content to 'fill in the gaps' rather than revisiting the whole of a concept. As Quikik feeds them bitesize style learning, this allows the children to quickly identify the small part they don't understand, learn it and move on. 
Quikik uses short videos to simplify key concepts, followed by questions to reinforce these new skills.  It features a trusted, expert side-Kik who will provide 24/7 math support and kids can compete with friends or Kik in short math duels to earn points and titles for their collection. 
The app provides the right level of competition and gamification, making learning math a fun, engaging experience for young learners.
Why Quikik? 
Quikik is perfect for math home learning as it gives kids the support they need, when they need it. It offers reliable, instant support to boost kids' understanding of core math concepts and helps to foster independence in math learning.
Not only is Quikik beneficial for learners, but it provides a stress free way for parents to help their children with math. Parents may lack confidence when they help with math learning, as they may struggle with it themselves or simply things may have changed since they were at school.  The app provides parent-friendly explanations of some of the key concepts of maths, so parents and their children have a bit more confidence. 
How do I get it?
Download Quikik from the Google Play and App Store.